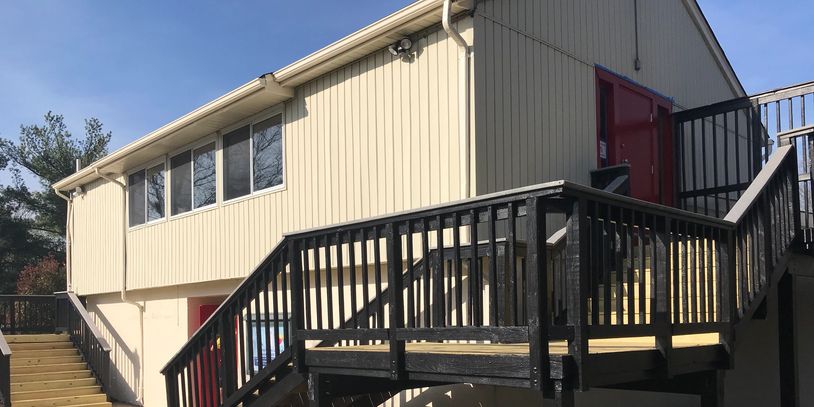 Can non-members rent the Clubhouse? - Only current members of the Hunters Creek HOA and the Hunters Creek Swim & Racquet Club are eligible to rent the Clubhouse.
Is there a security deposit? Yes, a refundable $250 security deposit is required to rent the Clubhouse.
What are the room dimensions? - The party room is 27 feet wide and 42 feet long, approximately 1100 sqft of party space.
What is the room capacity for parties? - Fire code limits the Clubhouse to a maximum of 75 guests for seated parties and 100 guests for parties without tables.
Is there a kitchen to prepare/serve food? Yes, the Clubhouse includes access to a full-sized kitchen, including refrigerator, electric stove with oven, microwave and dishwasher, as well as a sink.
Are there restrooms? Yes, there are two private restrooms in the Clubhouse.
Are tables and chairs included with the rental fee? Yes, there are eleven 60" round tables and four 6' rectangular tables as well as 75+ chairs available for your function.
Are paper goods provided? - The Clubhouse is fully stocked with toilet paper, paper towels, hand soap and dishwashing soap. Paper party goods are the responsibility of the renter.
Are beer and wine permitted on the property? Yes, you are allowed to provide beer and wine at your function inside of the Clubhouse. Alcohol consumption is not allowed outside of the Clubhouse unless sanctioned by the Pool Board. Virginia Law prohibits the sale of alcohol on the property.
Is smoking allowed in the Clubhouse? - Smoking is prohibited within the Clubhouse.
Is cleaning included with the rental fee? Yes, rental includes a post-event clean-up. NOTE: Renters are responsible for the removal of all trash, recycling and leftover food at the end of their function.